The radio frequency chains of the PARSAX radar have been developed to work with waveforms that have bandwidth up to 50 MHz. Such bandwidth provides to radar theoretical range resolution 3 m and the value of so called BT-product equal 50.000 (the PARSAX radar operational sweep/repetition time equals to 1 ms). Zhijian Li, our main designer, developer and optimizer of all analog circuits of the PARSAX, spent a lot of time and efforts to achieve best hardware performance inside defined 50 MHz bandwidth in terms of the linear dynamic range maximization and minimization of  amplitude and phase distortions. He did it using novel approach for the system design using the ADS simulation software and making final tuning of real hardware moduls and components. And his final results define very high performances of the PARSAX radar.
But a few days ago we studied that these performances are even higher than expected.
The spectral characteristics of the total radar RF chain (including transmitter and receiver) have been measured using new network analyzer and unexpectedly wide actual bandwidth - up to 100 MHz,- has been found. For 90 MHz bandwidth un-flatness of the amplitude spectral characteristic is less then 1 dB, and 3 dB for 100 MHz.
Stimulated with the on-going discussions about the possibility to use the PARSAX radar for validation of wideband signal processing algorithms, we re-program our flexible radar to operate with new waveforms. All measurement campaign, starting from the initial discussion until final data storage, took about one hour. Some illustrative results are presented below.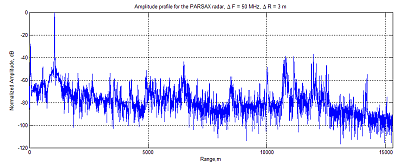 PARSAX: range profile with standard 3 m resolution (signal bandwidth 50 MHz)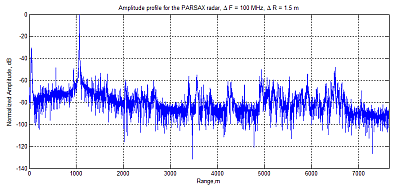 PARSAX: range profile with 1.5 m resolution (signal bandwidth 100 MHz)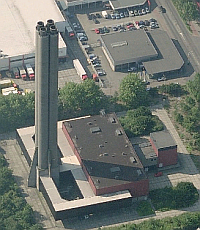 An important conclusion follows from these profiles - there is no visible degradation of the system's dynamic range when waveforms with 100 MHz bandwidth are used in comparison with standard 50 MHz bandwidth.
At the same time, in zoomed picture you can easily see real improvement in resolution - the chimney, our lovely test target, clearly can be seen as compound target - its construction, which includes four separated pipes, becomes visible on the radar profile with 1.5 m resolution.(Photo: Microsoft Bing Maps 3D)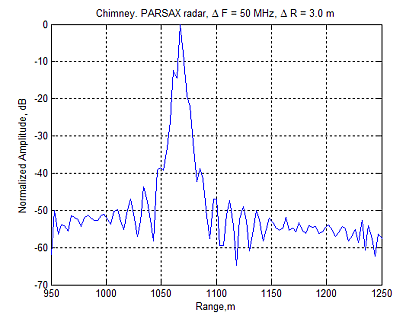 Zooming on chimney - 3.0 m resolution (50 MHz)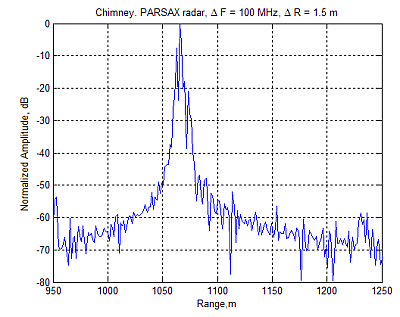 Zooming on chimney - 1.5 m resolution (100 MHz)
It is clear that presented results have preliminary character and only show a feasibility to use wide band signals with PARSAX. More attention necessary to pay for such new radar mode before the moment when the calibrated trustable data will be available for users' applications.