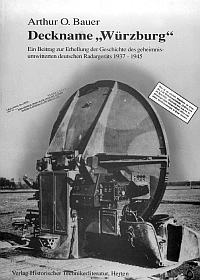 Searching the Internet for some radar-related keywords I've found a site of the Foundation  "Stichting Centrum voor Duitse Verbindingen en aanverwante Technologieën" (Foundation Centre for German Communication and related Technology), which was established on 7 Dec. 1994, in The Netherlands with objectives to preserve the history of science and technology, concerning the electrics and electronics hardware and software. Their main focus is on central European countries prior 1960, as far as it regards to the science and/or high quality commercial engineering (no consumer technologies).
On that site a few enthusiasts presented results of their amazing hobby - collection of historical documents, photos and even examples of real equipment that shows the important milestones in the development of radio-communication, radar technology and electronics in Germany during first half of the last century. There are a few very interesting manuscripts by Arthur O. Bauer, which reviewing their studies, - "Hülsmeyer and the early days of radar inventions, sense and nonsense, a survey" (Part I and Part II), Deckname "Würzburg" (full-scale book about one of the first military operational radar, in German), Some Aspects of German Airborne Radar Technology, 1942 to 1945 (A paper contribution to the Autumn DEHS Symposium at Shrivenham (UK), on 19 Oct. 2006). And many-many more articles, patents, historical documents, photos, descriptions and documentation of old radio-technical equipment and components.
They are even running a practical project for Würzburg radar reparation, reporting progress and results!
What can be said? Nice job, nice hobby and thanks to authors for making all collected materials publicly available.