Research analyst Olivier H. Beauchesne from Science-Metric, Inc. (the bibliometric consulting firm) computed and presented the map of scientific collaborations from 2005 to 2009. For this analysis the data from Scopus database have been used including the information about published books, trade and peer-reviewed journals .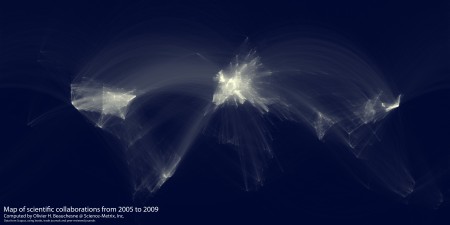 Click on the image to see high-res, zoomable picture
It is interesting that this analysis has been inspired with the friendship map made by Facebook intern, Paul Butler.
From this data, I extracted and aggregated scientific collaboration between cities all over the world. For example, if a UCLA researcher published a paper with a colleague at the University of Tokyo, this would create an instance of collaboration between Los Angeles and Tokyo. The result of this process is a very long list of city pairs, like Los Angeles - Tokyo, and the number of instances of scientific collaboration between them. Following that, I used the geoname.org database to convert the cities' names to geographical coordinates.