Repost from TU Delft news weblog: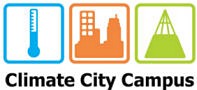 Climate change and urbanisation are two of the most important challenges humanity is facing in the 21st century. Climate change affects cities and vice versa. Cities are major contributors to climate change with their substantial CO-2 emissions. At the same time, climate change exposes cities to extreme weather, heat and air pollution.
Climate City Campus offers you the opportunity to use the Delft University of Technology campus, a small city in its own right, as a living lab for:
climate research in cities
adapting cities to climate change
reducing CO-2 emissions of cities.
Check out www.ccc.tudelft.nl and submit your idea to tackle climate change in cities.