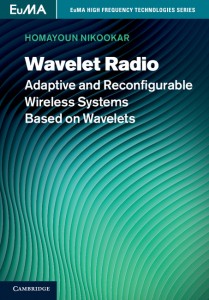 Dr. Homayoun Nikookar published this year a book "Wavelet Radio. Adaptive and Reconfigurable Wireless Systems Based on Wavelets".
It is a self-contained guide to wavelet technology, invaluable source of information for graduate students, researchers and practising engineers that provides an overview of applications of wavelets in wireless communications, and explains how to design new wavelets and compares wavelet technology with existing OFDM technology.
New technology provides and efficient and sustainable solution for cognitive radio networks. Book explains how to develop technologies and architectures capable of handling large volumes of data under severe resource constraints.
Book was published by Cambridge University Press in new EuMA High Frequency Technologies Series.
Update: Recently we received a message that EuMA members will receive a 20% discount on books in the series up until 31 December 2013!